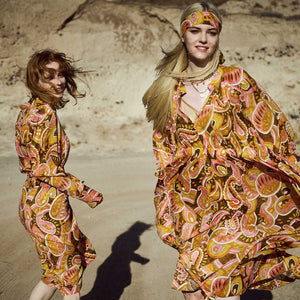 This brand celebrates femininity and empowerment with handmade, flattering designs for every body type. Join the tribe and add a touch of wanderlust to your wardrobe. Made with love in Greece.
Devotion Twins
Introducing Devotion Twins – an Athens based womenswear brand that celebrates femininity and empowerment. The brand's mission is to inspire women to embrace their inner goddess and feel confident in their own skin through their bohemian collections.
Every piece of clothing is handcrafted with attention to detail, proudly made in Greece. Their designs cater to all body types, with garments designed to flatter and make every woman feel beautiful.
The Devotion woman is full of wanderlust and adventure, ready to conquer the world with a confident stride. So why not join the tribe and add a touch of to your wardrobe with Devotion Twins.